A layout square, or combination square, comes in 6" and 12" sizes. Most woodworkers use the 6" model, simply because it's easiest to carry around. Also, most of the stock you'll use will be no bigger than 6" wide, so 12" is overkill. The layout square is a triangle that you can use to mark square cuts on stock. Once you measure the length of the cut, you line up the layout square with the edge of the board. The short side will give you a straight, square cut across the end grain. You can also measure off angles with the layout square. This helps when you're trying to measure for a bevel on a table saw, or marking a cut for a miter saw. You can even use your layout square to determine an existing angle. Just be sure to buy one made of metal. The plastic ones are not only fragile, but they also can warp, making them pretty useless.
Table saws help the woodworkers rip, miter, crosscut, and bevel wood. The versatility of the tablesaw is what makes it so useful for the woodworker, making it the workhorse of any woodshop. A tablesaw has a heavy but smooth surface and is made of cast iron to keep it stable. The tablesaw also has two handles: one raises and lowers the blade and the other adjusts angles for the saw. The second handle also enables dust collection.
As someone who is just progressing past being a "beginner" (just getting into building furniture) in the woodworking community, I would say there are a number of changes I would make to your list. First, I would say that a power jointer/thicknesser does not belong on the list by any means. They are way too large of an investment and take up a lot of space (not to mention you can buy your stock at the desired dimensions). I also strongly disagree with the concept of joinery devices. As someone new to the trade, I feel this is a very important skill that must be developed, not skipped over by buying devices power devices that achieve a single goal. I think the jigsaw should be replaced by a good bandsaw. I just purchased my first major power tool and it was a 14″ bandsaw and not a tablesaw for space reasons as well as versatility. The bandsaw allows me to resaw, cut curves, (now that it is adjusted for drift) rip pieces of stock accurately that are thicker than a table saw could handle, etc. Once the cut is complete, a handplane can remove any saw marks and square/flatten a surface. It is also really useful for cutting tenons and dovetails. Handsaws can be used for crosscutting and anything else the bandsaw cannot handle. As for a bench, if you are getting into woodworking, this should be your first real project (and it is not expensive to make). You are also missing a good vise to be attached to the bench.
Solid wood — that is, wood cut into boards from the trunk of the tree — makes up most of the wood in a piece of furniture. The type of wood you choose determines the beauty and strength of the finished piece. Many varieties of wood are available, and each has its own properties. The following sections introduce you to the most common types of soft- and hardwoods.
You can make a coffee table stand out and be interesting from an aesthetic point of view without complicating its design too much. These plans from Abeautifulmess are a perfect example in that sense. This wooden coffee table definitely has what it takes to become a focal point for the living room and to serve as a statement piece for the entire space. Its design is a combination of sculptural and geometric beauty and a contrast between the solid and heavy top and the sleek and delicate hairpin legs.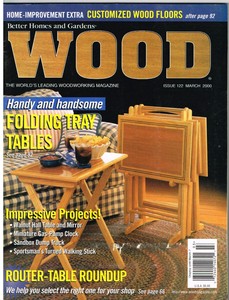 I think it depends on the type of woodworker you would like to become. Are you more interested in traditional "electric free" carpentry or are you drawn to the ease and convenience of modern machinery? Also, I think you should take into consideration what kind and how much shop space you have available. I have worked with all the modern machines for years now, and are just presently finding personal satisfaction in traditional woodworking. In fact, last night I built my very first bookcase with just a few "powerless" hand tools. So in all, I would suggest some personal reflection…What type of woodworker do you want to become?…and from there garnish your shop appropriately.